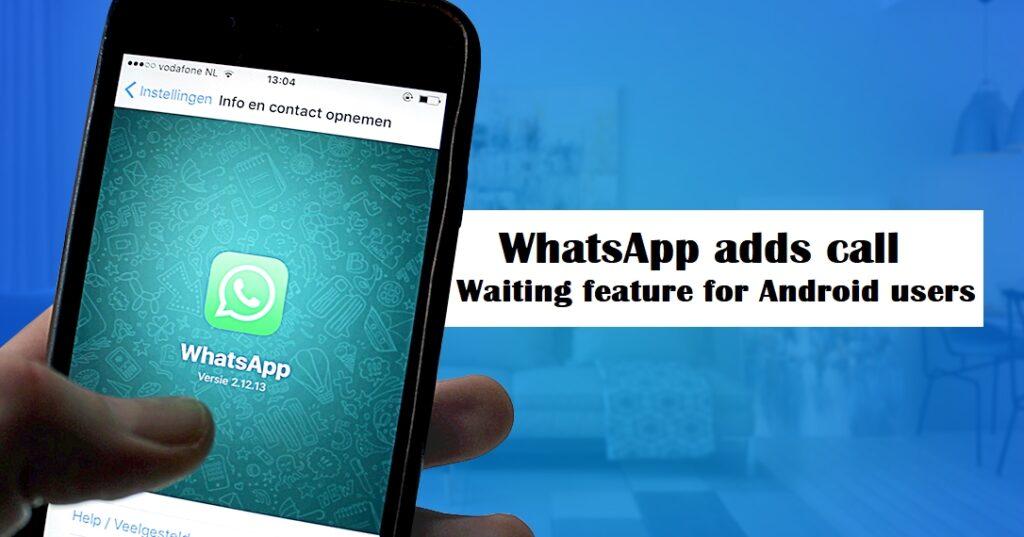 If you remember then last month WhatsApp added call waiting feature for its iOS users and I also wrote article on the same ensuring Android users that if any such news gets updated for Android users too then I would inform you. Now it's time to give good news to Android users that they can also take advantage of call waiting feature on WhatsApp. Yes folks, recently (particularly in the month of December) WhatsApp surprised its Android users by introducing them call waiting feature in WhatsApp call on Android.
Guys let's make a start and read whether this call waiting feature on Android WhatsApp is same as iOS or something new has been added in this. You will have complete knowledge about the latest update by the end of this article so keep reading the blog till the end.
Android users too get call waiting feature on WhatsApp
After a few weeks of the update of call waiting feature in iOS phones, WhatsApp now brings call waiting feature to Android users as well. This new update brings a significant change to how it handled calling feature on the app. So what basically a call waiting feature is? The feature basically allows users to see incoming WhatsApp calls even if they are already on a call.
Furthermore, the new feature is available on WhatsApp version 2.19.352 which is the latest stable version of the app and 2.19.257 and 2.19.358 of the beta app in the Google play store. If you have updated WhatsApp then you're access to this version. If not, then you must update your WhatsApp first to avail the feature.
Let's see how this feature works?
Those users who have updated their WhatsApp will now get notification of call waiting alert – which is almost similar to how regular call waiting works. Here, the feature will work by popping up two options for the users: 'Decline' and 'End & Accept', means users can either accept the incoming call or reject the call.
However, earlier the second incoming call would automatically cut if user was on an existing call. And the second call would appear as missed call. Although you must note that you can't put the call on hold as WhatsApp doesn't allow you to do this, and also two users can't be on the same line simultaneously. Either you choose to be on the existing ongoing call or disconnect it in order to accept the second incoming call. That's why the feature doesn't allow you to merge the two calls, like you can do with regular calls. In short, you have to prioritize and make a choice.
Apart from call waiting feature, what new features can be seen on WhatsApp?
Yes folks, you can get to see other new features as well. Below given is the list of new features on WhatsApp. Let's have a look.
In the latest WhatsApp beta update, the instant messaging app has brought three new options for dark mode. The light theme would offer a white background with battery saver functionality. Dark theme world enable dark mode on WhatsApp.
'Set by Battery Saver Option' for dark mode to save phone battery level. Users running Android 9.0 or older version can only avail this feature in their phones. With this feature, WhatsApp fixes the issue of battery drainage (it's claimed that WhatsApp is causing massive battery drain on OnePlus phones, may be this feature can fix it)
The users also get to see new privacy setting in WhatsApp Android app. This "new privacy setting allows you to control who can add you to groups". To enable it, Go to Setting > Account > Privacy > Groups.
WhatsApp on Android app "you can now require a fingerprint to unlock WhatsApp". To use the feature, try this: Setting > Account > Privacy > Fingerprint lock and then enable Unlock with fingerprint.
Final words!
WhatsApp has been updating or introducing new features since the time it launched. You can see that after the introduction of dark mode feature on WhatsApp, now it has launched new call waiting feature in it along with other new features as well which I have already discussed above. If you want to avail all new features on WhatsApp then you're required to have a new version of it and if you don't have one then update it from the Google Play Store.
Let me also tell you that both iOS and Android users can avail the new features of WhatsApp. Get in touch with us for more updates.