very business is reaching at that level where they dreamed, so here credit goes on what? Blockchain is the one behind their success because if you watch out every industry setup or every industry strategy, their main focus to implement the chance to work with Blockchain technique. You can improve your data library only if you are opting the technology called as Blockchain. It has such power that no industry can avoid it. Do you think that Blockchain doesn't have any disadvantage? I don't think so, no such technology is lace with only positivity. Everything has some cons or disadvantages. Blockchain also has, other technology took advantage of this. In this article I am going to tell about the rival of Blockchain. After reading this blog you can better understand about the Blockchain.
Hedera Hashgraph: Lets introduce you with the rival of Blockchain
While facing all such cons of Blockchain I am sure that you can change your mind and shift to its rival which is best as compared to Blockchain. I accept that Blockchain is distributed ledger technology but still you need to pay attention who is ready to take place of Blockchain and that is Hedera Hashgraph. You can raise many questions like how it can relate to Blockchain.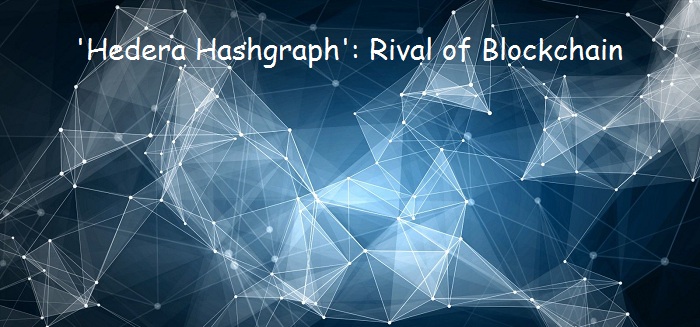 Hedera Hashgraph tech allows you to connect with each other and you can transact online efficiently. You don't need any third-party to interfere. Obviously, it is properly secure for you. You are allowed to buy and sell information by yourself or without using third party. The platform is trustworthy for the audience to optimize for enterprise-grade applications.
Let me share one important point regarding this tech that it has only one Cryptocurrency and that is Hbar. This Cryptocurrency has two integral purposes of the network where it is ready to secure a network with coin-weighted. Now if we move and get to know about the funding aspect then it has raised 120 million USD in private funding.
This is what we want to say about the Hedera Hashgraph, I think it can be compared with Blockchain but the role of both technology is different. Wait; let me explain you some more aspects of Hedera Hashgraph, so that you can compare it completely with Blockchain technology so pay attention folks.
Need to understand about performance of 'Hedera Hashgraph'
Comparing the performance regarding the technology then l must tell you Hedera Hashgraph has shown its best performance. The Hedera was built on Hashgraph and distributed consensus algorithm. Don't worry folks it was properly protected by patents. This is the best platform for moving the process of thousands of cryptocurrency transactions per second. If you will compare it with Blockchain then let me share one thing that it will not support multiple transaction in a second. Hedera has low consensus latency which shows amazing performance.
What about security of 'Hedera Hashgraph'?
In every transaction you are worried about security. Before operating any process, you want to be sure that your money is safe or not. So here the Distributed Ledger Technology based on consensus mechanism where you can feel free because the transaction can be done clearly and fairly. They are ready to face any attacks such as from Sybil and DDoS.
How good 'Hedera Hashgraph' is in terms of Governance?
Let's clear this that Hedera Governance is basically built with two structure and those were Council Governance and second is Consensus Mechanism.
The first is council governance which is just for managing the business of the council. Here you gonna see that the governance is straightforward one as up to 39 organization of a variety of industry will be ruled by Hedera. There is no control of small groups and other organization to influence.
Now let's understand the next governance which is known as the consensus mechanism where the transaction gets approved and can be ordered in a network. You will see Hashgraph is considered to be a consensus mechanism of Hedera where it is less expensive for you and work faster than you need.
Conclusion…
Above I mentioned about 'Blockchain' and 'Hedera Hashgraph', after reading all facts you can better understand which one is good. In this real time everybody wants stability, high performance and security. Hedera Hashgraph is the combination of all.
Now this is the time to see that can Hedera Hashgraph show its power? You need to just wait and watch, how the Hedera will take place of Blockchain. This is all about 'Hedera Hashgraph', the rival of Blockchain. For more interesting articles get in touch with us till then keep reading keep sharing.