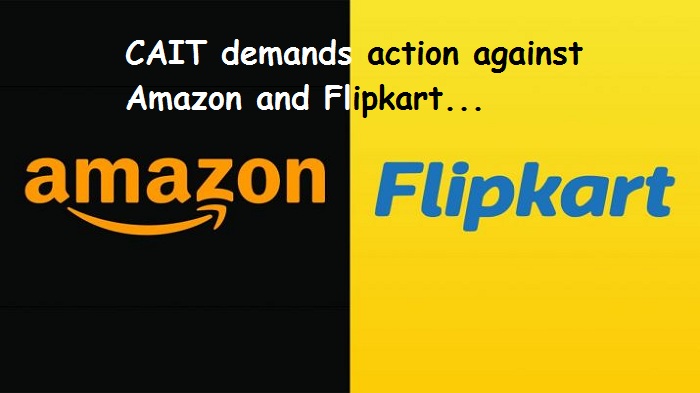 e all love e-commerce platforms for shopping. Today, the most preferred e-commerce platforms are Amazon, Flipkart and Snapdeal. These three are the most dominating platforms in the world. They not only known for providing good services but also the quality products they offer to their customers. What if I say these e-commerce platforms are blotted with the tag "economic terrorists", shocking?
Yes guys, it's true, few days back Amazon and Flipkart are declared as "economic terrorists" by Confederation of All India Traders (CAIT) and demanded that Government must take action against them. Folks, it's shocking for us as Amazon and Flipkart known for their quality services and products (rare are the cases when customers are dumped by their products and services) but now they're surrounded by the allegations. Are you ready to know the whole allegation matter? Just keep reading the article below.
CAIT alleges Amazon and Flipkart for violating FDI norms
In the starting of the month of December, Confederation of All India Traders (CAIT) claims that e-commerce platforms Amazon and Flipkart have violated the norms of FDI (Foreign Direct Investment). In a letter to the commerce minister Piyush Goyal, CAIT claimed that small retailers have suffered at the hands of Amazon, Flipkart and other e-commerce portals for the last one year which is leading to decline in their business. Furthermore, Goyal at an event said that ecommerce players in the country have to follow the FDI policy both in letter and the spirit of the land.
Confederation of All India Traders (CAIT) says, "The e-commerce market has been greatly vitiated by some of the major companies prominently Amazon and Flipkart who are bravely violating the FDI policy by indulging into all kinds of unethical and unfair business practices by offering deep discounts, indulging into predatory pricing, controlling inventory, having exclusivity of products and maintaining preferential seller system,"
CAIT National Secretary General Praveen Khandelwal also wrote a letter to Prime Minister Narendra Modi stating that these companies are causing huge loss of Goods and Services tax (GST) revenue to the Government.
Let's look at the FDI norms which these e-commerce platforms haven't followed
It's complained that e-commerce was "involved in predatory pricing, deep discounting, loss funding and exclusivity of various products, which are not allowed under the FDI policy", as per CAIT statement.
Amazon and Flipkart are now looking to include more third-party seller into their system who charges more than the existing inventory based system.
These e-commerce firms are undertaking illegal retail trading activities such as unethical business practices, predatory pricing, deep discounting, etc.
CAIT alleges that these platforms purchase exclusive products at a much lower discount from branded companies which ultimately disrupt the sales of offline retailers.
What small traders have to say on this?
CAIT trader's body claimed that these two e-commerce platforms (Amazon and Flipkart) are going to be a major roadblock in Prime Minister Narendra Modi's vision of making India a five trillion economy. Furthermore, they also urged that the government should consider taking similar panel action against them as it surrounds small retailers for not obeying any law or policy of the government.
The traders body also said, "These companies can easily be termed as economic terrorists and a major roadblock in making India a USD 5 trillion economy vision of Prime Minister Narendra Modi"
In addition, CAIT also claimed that several banks are giving cashback, incentive offers and various other incentives on purchase of Goods and Services from e-commerce portals in event of making payments through their credit or debit card. However, these banks are going against the provisions of competition of law and policy of Reserve Bank of India, by limiting these offers to online players only.
Read the justification statements of Amazon and Flipkart below
In order to save themselves from the allegations a spokesperson from Flipkart says, "the company operates through a market place model in India and is fully compliant with all the laws of the country, including all FDI regulations".
Furthermore another spokesperson from Flipkart said, "It is unfortunate that some fringe organizations with vested interests keep peddling their agenda,"
An Amazon spokesperson said, "We had open and transparent discussion with DPIIT officials", adding "we are always available for further engagement, as needed".
Final Takeaway!
After reading the article, it can be said that exclusive brands and banks in the collaboration of e-commerce sites like Amazon and Flipkart are hampering small business retails which is not good for country's economic growth. If Amazon and Flipkart are alleged by CAIT and are found guilty then a strict action should be taken against them. Trader's body has also demanded a necessary immediate action against these firms for violating FDI norms.
We will be back another updates, till then get in touch with us.