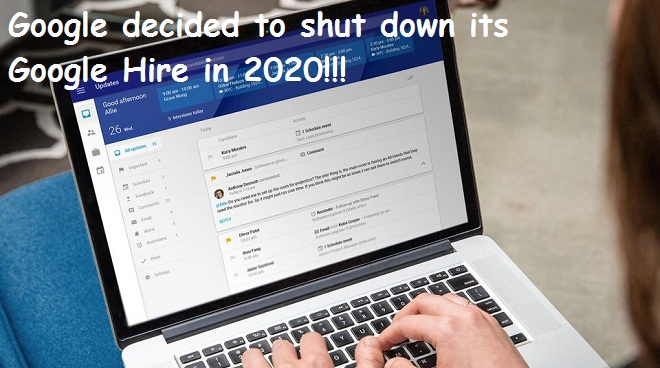 ear after year Google has launched many different products and services, apps, new features in the mobile, updates, etc. However, the Company has shut down as many apps and services as they have launched because of some specific reasons. It also quite makes our sense because if a product doesn't seem to work well then it's likely to be shut down. And this is what Google does every time if it finds any app not working well then it chooses to shut it down.
This time also Google has done the same thing as it is going to shut down "Google Hire" G suit tool in Sep 2020. For those who are unfamiliar with this let me tell you that Google Hire was launched back in 2017. So what does exactly Google Hire is? The concept behind the Google hire was to create a platform to make the overall hiring process simpler. It simply means that it could be used to help search for job applicants, schedule interviews, provide feedback, and more. However, Google now decides to shut it down. Read below to know why?
Google will shut down "Google Hire" in 2020
First let me tell you that Google hire is based on the technology which Google acquired when it bought the Bebop in 2015, a startup founded by Diana Greene. However, now Google has decided to shut down its recruiting-management services, the company said in a support article. Why company is shutting down the service?
Guys, Google hasn't given any specific reason behind shutting down Google Hire but it has said that the company now wants to focus its resources on "other products in the Google Cloud Portfolio". It was a difficult decision for Google to take as Google Hire helped small to medium sized businesses manages their interview processes and candidate pipelines.
Google also sent an email to its customers specifying "while Hire has been successful, we're focusing our resources on other products in the Google Cloud portfolio. We are deeply grateful to our customers, as well as the champions and advocates who have joined and supported us along the way."
Has Google mentioned any specific date till when users can use Google Hire tool?
Yes folks, Google clearly mentioned that existing Google Hire users can keep using the tool till September 1st, 2020 or when their contract ends, whichever comes first. And Google also says that users must not expect any new features to be added in Hire. Now users have enough time to utilize Google Hire till the expiry date.
Moreover, Google clears one thing that users won't be charged any additional amount for Google Hire after their next billing cycle and it has stopped taking payment for the product in the meantime, said in Support FAQ.
Google shares details of shutting down the process of Google Hire, let's read the crux below:
On 1st September, 2020, Google Hire will be shut down.
Hire will provide full support to its existing users until its expiry date and no additional will be added.
G Suite customers won't be charged additionally for using Hire after their next bill.
Google will fully support data export until its sunset date.
Some unreleased features are shutting down in the next month.
Google is also willing to terminate contacts with no penalty effect.
Closing words!
One after another Google is shutting down or removing its apps or services from Google Play Store. Google has done this many times because of some specific reasons. Although Google has not revealed that why it is shutting down Google Hire yet I'm sure soon Google will share the reason and offer some alternative solutions for its users.
Till then you can fully utilize Google Hire and wait for the updates and announcements if Google makes in future. Get in touch with us for more updates. keep reading and keep sharing.