In modern era the most difficult situation for any individual faces in the life is choosing a career or pursues his dream. Choosing a career is not easy, fear of failure always remain in a mind. But this situation can be solved if one tries to make his passion into a profession. Upcoming age is a digital age and can be defined as age of technology so making a career in the field of technology not a bad choice and there is no better choice than to pursue career as an app developer. Applications have become a part of human life now. Whether it is a ordering a food or booking a film ticket, online shopping, playing games. Mobile applications are available for almost every type of requirement. By the 2022 there is going to be more than 5.5 billion smartphone user in the world. In India this number will shall rise to more than 300 million.  This situation has forced major app developer companies to design and developed the apps that will help in expanding reach to the customers and fulfill their existing requirements. And all this lead application developer one of the fastest growing career path in I.T Industry. App developers are someone who design and developed apps for various mobile platforms. Like Apple (ios), android platform, Psion etc.
Qualifications and skills required for an app developer
Basic requirement to be an app developer is that one must poses knowledge and skills regarding programming languages like Java, C++ that's why it is advisable that one must opt IP as a subject during his school time. Because to be a good app developers sufficient knowledge of programming languages is necessary for building enhanced software development skills. After that you should pursue bachelor degree in B.tech, computer science or any of the relative field is sufficient.
Basic knowledge of software development process its life cycle which include designing, developing, testing, maintaining, how to maintain long term lifecycle support and its maintenance.  All these things you will learn during your graduation.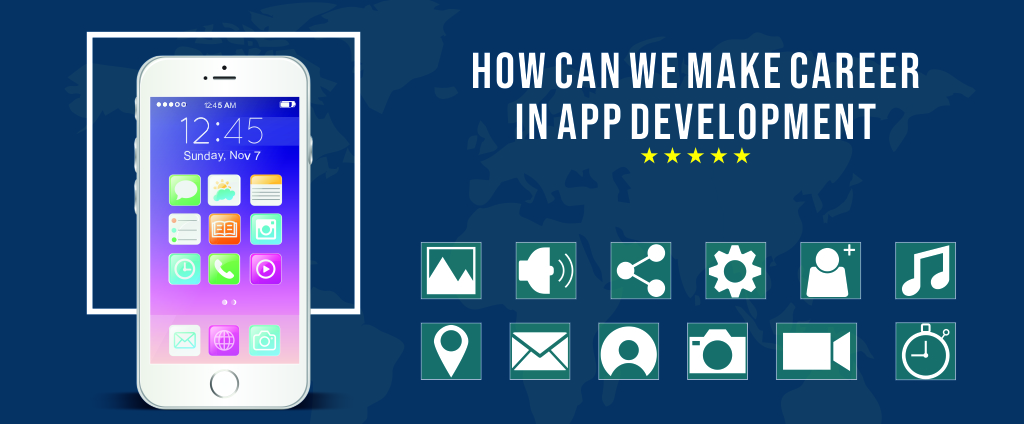 But learning is not sufficient practical exposure and knowledge of at least 2 or more programming languages. Such as Java, C++, Python etc. is necessary.
Choose your aim and be specific what you want to be
Front end programmer– To be a front end also known as client side programmer knowledge of HTML, CSS, Java script along with designing skills is necessary.
Back end programmer– Also known as server-side programmer knowledge of either one of these programming languages python, ruby, php, java, .net. is necessary. If possible, knowledge of database and system administrator will be icing on the cake.
3D programmer/game programmer– To be 3D programmer knowledge of the programming language C/C++, open Gl knowledge of animation programming languages is necessary.
Mobile application developer. It is a different from other types of software developers. Knowledge of programming language C which is also founder of all other programming languages is necessary. Learning about the basic fundamental of this programming language give you benefit in the skills of coding, memory management and debugging.
Java- It is the second most revelry used programming language. The language of the android platform practices OOP (objective oriented principles) which works on Php, Python, C++, and Perl etc. This language need manipulation of computer parts such as file system, advanced programming that can be compatible on any operating system.
Java script- Most simple and at the same time most enhanced programming language. Need less time and get easily compatible with as many browsers that is built in java script. One can begin with loosely coded lines to see the instant results of your code.
Python- It is advisable that beginners or fresher's in this field should start with python as their programming language because it is most simple and easy to learn programming language required less time and less line of code and comes up with good programming style.
The leading mobile app developer platforms were Appery.io, App maker, Sap Xamarin (Microsoft) etc. But remember learning a new platform will gradually take more time effort and dedication. Online low cost and app developers related study material, tutorials are available for novice and beginners.
Future of application developers
If we talk about mobile application developer than coming 8-10 years is very crucial and have bright scope will unlock many employment opportunities.
Developing and designing quality, responsive apps will provide the greater satisfaction to the customers and help in increasing customer interaction with app development companies. Where as many organizations have developed the business apps for smart devices which can influence the customer's mind. Lastly it can be said as novice it may feel difficult to be app developer and learning a programming language. With time if u give effort and dedication and invest your time in this field you will be greatly benefit and have a last laugh over your competitors as an app developer.