In this busy schedule it is very difficult to stand in queue for our banking needs. I really feel hectic and prefer to do online banking. Use banking mobile application and make your work easy and simple. In this article I am going to tell you about an app especially for this purpose. We heard many mobile apps that use for some other purposes but how amazing it is when we operate those mobile applications that can complete our work related to bank.
I must say the use of banking mobile applications is increasing because we don't want to visit bank again and again. Let's go ahead try to know about the amazing banking app that is Chime Mobile banking app. In just few click, you are allowed to do any banking transaction that you want to.
What is Chime Bank?
We all want to gain experience while using the best online banking service so I will suggest you to start operating this simple banking app name Chime. The application is perfect only for those people who like to use the app with modern concept and looking to gain app-driven banking experience. This is the best option for those who need to operate the bank online service when you don't have high-budget.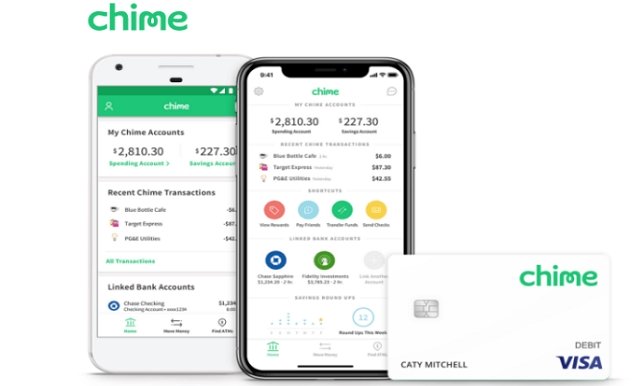 The best thing in this app is that there are no hidden charges. You don't have to pay single penny as transaction fee, monthly service charges etc. Another best thing is that you are not bound to maintain the minimum amount in your account.
Features of Chime Banking App can create more interest
I know you all are here to see what Chime Bank is so here we explain you an accurate feature that you must know if you have mind-set of using the Chime Bank now.
You all operated many mobile applications for banking purposes and yes some of them charge the maintenance fees or annual fees but feel free to operate Chime banking first because there is no such monthly fee. We all have heard too that you have to maintain some balance while using online banking app but using the Chime app, no such minimum balance required
Are you a shopping addict and love to purchase something from other countries? Some of you did that because they like to purchase other product from overseas but unfortunately, they have to pay some foreign transaction fees for this. It is applicable in many but good news for those who are looking to use Chime online banking app that you don't have to pay any such foreign transaction fees. Other bank accounts can charge at least three percent but no such situation you gonna face while using Chime online banking.
How good it is when you operate an app for banking that gives you reward? Yes, it can happen with some of the online banking and Chime is one of those which rotate the rewards through its mobile application. Let me tell you that the sample partner includes HotelTonight, Warby Parker and Hulu share the cash back offers of $5% to 10%. Chime banking automatically credited this to member's spending account.
Most of you want to know what banking app has the feature of no overdraft fees and let me tell you that if you need such feature then operate Chime app. For example- you don't have an amount to purchase something then the transaction will be canceled in Chime app.
One more feature and I am sure this you have never seen in others app and that is "Split the bill". Want to split the bill with someone? You can do this as the role of Chime online banking here is to send a message with a link and it will pay you back using Venom. They can also pay you with their Chime account if they operate.
Conclusion
We want everything should be done in a short period of time and for this, we should operate a mobile application in our smartphone first. Banking transaction via online can be done but you have to be alert in every transaction. Above we have mentioned best-known money management finance app so read out what actual it is. Also if you want hassle free online banking then use the Chime app.
For more updates kindly get in touch with us till then keep reading.