Apple always takes care of everything to make their users stay alert from bugs and other issues. Many enthusiasts of Apple want a new and advanced update for their devices and last month in September 2019, Apple introduced its IOS13 OS. Unfortunately bug issues found in it. So, Apple step-forward and recently they presented a fourth update which is iOS13.1.3. Before this Apple presented some updates like iOS 13.1, iOS 13.1.1 and iOS 13.1.2.
Now let's go ahead and try to reveal how this update will fix the all issues.
What new updates Apple shared to fix the bug issue?
Recently Apple launches an update with the name of iOS 13.1.3 for the complete solution of bug issue. Happy with this or not? You already get aware about the update of iOS13.1.1 and 13.1.2 for maintenance of bug issue which reflects in 13.1. They launched these updates two weeks ago. Basically, it is important for the Apple user who used the device to update its OS as soon as possible because Apple is looking to free you from bug problems and also make sure to improve the performance. This can be helpful for Apple to stay with its users and by this way users will not shift to other devices or operating system. 
How update of iOS 13.1 will benefit your device?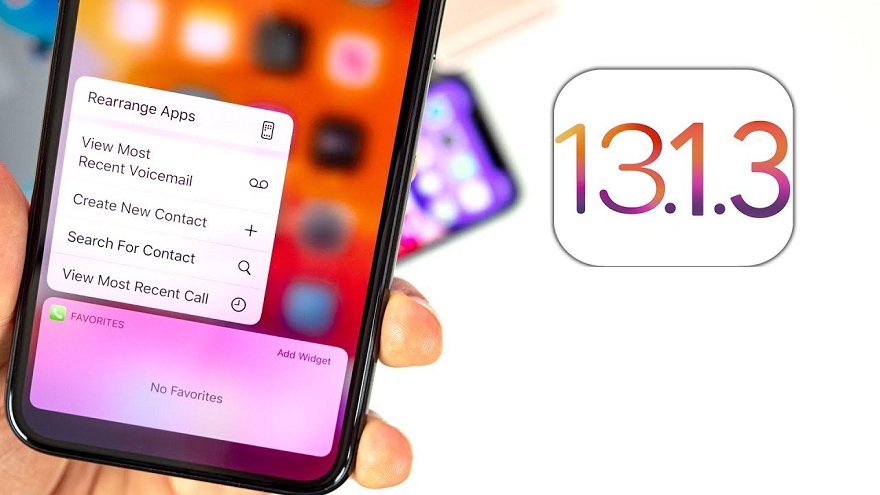 Users look to update their device but it's important for you to know what problem this new update version can solve and how it can improve your performance. Read out the points given below and understand how this new version can remove bugs-
Version iOS13.1.3 addresses an issue where it can prevent a device from ringing and vibrating for an incoming call
The new update version fixes an issue where Voice memos recording may not download after restoring from iCloud Backup
After releasing this iOS13.1.3, it fixes an issue that can prevent Apple watch from pairing positively
The version is going to solve an issue where Bluetooth may disconnect on certain vehicles
This new update version will solve the problem of Health application where data may not directly display after daylight savings time adjusts
IOS13.1.3 version is going to fix an issue that prevents opening a meeting invite in Mail
Looking to download this new version in your device!
No doubt most of the users operate both iOS smartphone and even iPad so we decided to share how to download the updates of iOS 13.1.3 and iPad OS on both of the devices so that makes easy for you folks. Have a look
If you want to download iOS13.1.3 or iPad 13.1.3 then go to "Settings" first
After Settings, your next step is to go to "General"
Last step for the new version update is to click on "Software Update" and now it's done.
If you need this update then make sure you have enough amount of battery and you need to update your device while using WI-FI.
Conclusion
You can say a good day for Apple Company when they presented iOS13 OS after so much demand and a bad day when they got to know about the bug's problem in iOS13. This time you need to appreciate Apple because they are looking forward and present new versions so that it not only removes the bug issue but also can improve the performance of your device. You don't need to search how to download this new version as we already explained to you in the above steps and also we shared about the iPad new version.
Hope you guys update your device soon to get rid of several issues. For more updates get in touch with us. Till then keep reading and kindly comment below to let me know that how you find this article.