he initial release date of popular messaging app Snapchat is July 2011, since then it has gained much popularity worldwide. If not everyone then most of the people use Snapchat in their daily life. Its eye-catching features and filters are amazing. It's been introducing new features, filters, in the app such as Multi snap, Portrait mode, refreshed UI, new filters, and many more. Through these features Snapchat is successful in grabbing a lot of user.
This time also, Snapchat aims to lure users by introducing new feature called "Time Machine". This feature lets you look older/younger in real-time. Isn't it interesting feature guys? Let's try to understand more about this feature in detail below.
Snapchat launches latest lens feature called 'Time Machine'.
Recently, Snapchat launches a new feature known as 'Time Machine' for its users. This feature basically shows you how powerful machine learning or artificial intelligence can be. The feature allows its users to change the appearance of their age simply by dragging a slider across the device's screen. Time machine AI-powered lens uses advanced training models and robust neural network technology, which transforms not only your face, but also hair instinctively. Sounds interesting! Isn't it?
Company spokesperson said in a statement, "Time Machine lens lets you change the appearance of your age by dragging a simple slider across your screen, going from young to old in less than a second. Using advanced machine learning and training models, you can see the years melt away (or pile up!) in real-time, then share with your closest friends with just a tap,"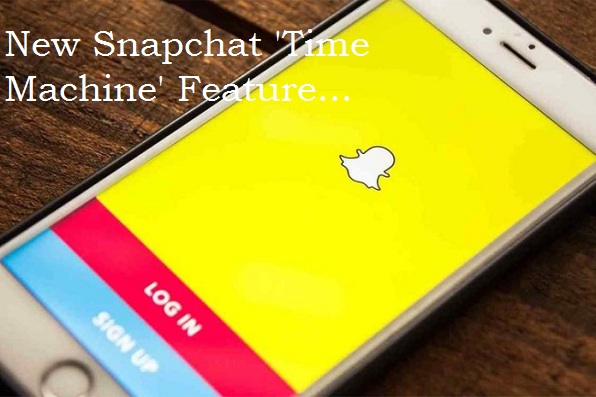 Guys, if you remember then the new Time Machine feature is similar to what Facebook introduced earlier this year that let users have fun with aging filters. However, this feature is different from Facebook as uses machine learning and works with both front as well as back cameras. If you slide left, it will show you younger and if you slide right, it will show you ageing older in real-time also with hilarious results.
List of devices who support this feature
Although the Time Machine feature is available for both Android as well as iPhone users, it is available for all iOS models after the iPhone6. However, for Android phone there are some specific models on which this feature will work. Let's see the given list below:
Samsung Galaxy S10
Galaxy S10+
Galaxy S9 and Galaxy S9+
Huawei P20 Pro
Huawei Y7
Huawei Y9
Redmi Note 7
OnePlus 6T
Google Pixel 3a
How you can use "Time Machine" lens feature?
Following points will guide you to use this feature properly. Just read and follow them.First of all, if you don't have Snapchat downloaded on your Android or iPhone devices then you must download it first.
– After downloading, Snapchat will automatically open to the camera.
– Now press smiley button or tap on screen to Open Lenses Carousal.
– Find the Time Machine feature in Carousal.
– Choose the direction of the camera now.
– Try to center your face on either of the cameras (front or rear) and tap on your screen to bring up the Lens Carousal.
– Swipe left until you reach the Time Machine lens. Now adjust the slider left to wind back the clock and slide right to add on the years.
– After that you can tap or hold the shutter button to capture the snap Finally, you're done with the picture which you can save.
Conclusion
Back in May this year, Snapchat also launched a new filter called Baby face and gender swap filter. This feature was about shifting the face from older to younger. This feature enabled real-time shift of adult faces into children but now the Time Machine feature will go even one step further.
I hope guys this was informative and arouse your curiosity like mine. If you don't know then let me tell you that once again many celebrities including Lady gaga, Gisele, and Kendall Jenner jumping on the bandwagon of Time Machine feature and revealing how they will look like when they'll get old and wrinkly. Snapchat also claims that more than 70% of users play with or view lenses every day to transform the way they look. If you're not a part of that 70% of people then I recommend you to use this feature, you'll surely enjoy and like it.
Get in touch with us for more updates.