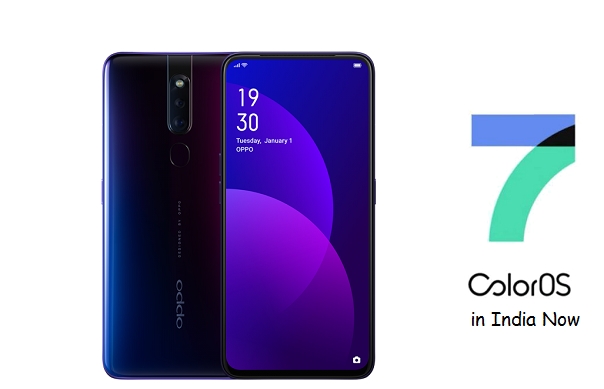 ColorOS7 is Oppo's latest Android version which was first launched in China in November 20, 2019. You will be happy to know that Now Chinese smartphone manufacturer Oppo is all set to unveil its all-new operating system (OS), ColorOS7. So Oppo has finally launched its much anticipated Android 10-based ColorOS 7 in India. Oppo launched for its all-new ColorOS7 in New Delhi. With the new slogan, "Smooth and Delight" company shared the rollout details, new features and changes that Oppo users can expect in the new OS.
What Indian users will get in the latest version of ColorOS7? To know keep reading the article till the end.
Now let's look at the changes and features of ColorOS7 below
The first change you will see in ColorOS 7 is the redesigned icons. The mode of icon is redesigned in the OS with "new material design icons".
Company has also introduced new artistic wallpapers as a part of its Artist Wallpaper project.
Apart from this, the company also introduced nature-based sound effects across the operating system.
Oppo made changes in the three-finger gestures on ColorOS7.
Dark mode features is also added across the entire operating system. The company claims that dark mode will help in reduce power consumption about 38 percent.
ColorOS 7 also comes with a new "Quantum animation engine" for improved animations. A number of free themes will also be provided to users.
A new-weather adaptive alarm is also introduced which adjusts the sounds according to the weather conditions.
The company will also launch Oppo Relax that will provide access to newer soothing sound effects, alerts, notification sounds, and tones. However, it will launch in the beginning of 2020.
Some other privacy features and gaming performance
After reading the long list of features and changes in ColorOS7, now let's look at the privacy feature and improved performances in games below.
For app performance improvement, Oppo has launched a new "oMem" technology. Oppo claims that oMem results in a 25 percent improvement in app startup times, and a 40 percent improvement in RAM utilization.
"Osense" is also introduced for improved touch response during gaming and less lagging. It results in about 19 percent improvement in frame rates on average and 15 percent improvement in touch response speed.
A new privacy feature is also introduced such as App lock for encrypting apps, and privacy safe to hide files.
It's time to look at the improvements in Camera, Camera X, and India-centric features
Camera is very important section of ColorOS7. Let's read below the changes or features you will see in camera in ColorOS7.
The company has launched a new AI Beautification 2 feature in ColorOS 7 version. The improved algorithm helps users detect better various scenes, environments, and lighting conditions. This can apply the beautification best suited to your skin tone.
The new ultra dark mode feature can be used for improved night-time photography. The mode uses AI to detect noise levels to better reduce noise with "a special night scene algorithm".
"Soloop" a video editor is also added which will provide built-in video editor to ColorOS7 users. you can fast edit your videos.
A new camera "Camera X" is added in partnership with Google. This camera allows third-part apps to directly use the stock camera app to all the built-in features. Apps such as Instagram , Whatsapp, and Snapchat can directly capture better quality images with Camera X.
Some India-centric features are also added such as DocVault for securing important documents. Oppo has also amalgamated with Digilocker service which was introduced by the Government of India in 2015. DocVault will allow users to save their authentic documents on their smartphones.
The availability of ColorOS7 version
The ColorOS7 will be available in almost 20-plus phone models. These phones include
Reno 10X Zoom
Oppo Reno2
F11 and F11 Pro
F11 pro marvel's avengers
Oppo Find X
Reno 2 F
Reno 2 Z
R 17 and R 17 Pro
Oppo A9
Oppo Q2
Oppo F 7 and F 7 Pro
F 9 and F 9 Pro
R 15 and R 15 Pro
Oppo A 5
Oppo A 9
and K 3 will receive the update.
Final Takeaway!
Guys, with the launch of new android version Color OS7 in Oppo phones, Oppo will be able to enhance its users experience in a more significant way. Oppo has already said that it has improved touch responses by 21.6% and frame rate by 37%.
The new version has already been launched in Oppo phone now the users can experience the version in their mobile phones. However, the trail version on Oppo Reno2 will be starting from December.
We will be back with another update till then keep reading and get in touch with us.