Again and again we got to know about malicious apps in play store and in app store too. These apps contain bugs which can infected your device and are able to steal your personal data. Earlier we informed you about Apple that they remove some rogue apps. This time we want to thanks tech-giant Google who removed applications that are malicious. Apart from hacking, do you think that anyone can stop those developers who develop such kind of apps that can harm user's data? Folks, we have written many such blogs regarding this malicious applications. Everyone got disappointment because the role of the developer is very crucial. If he or she will develop such kind of mobile apps then how users will trust on Google and Apple.
How these malicious apps have been found?
We have seen the report shared by Quick Heal Security Labs where they informed the users around 29 malicious applications were found on Google play store. The worst part is such apps download count is more than 10 million and this is completely shocking. The whole report was shared by Quick Heal Security Labs on 26th September 2019. According to them out of 29, 24 apps are from "HiddAdd" category rest 5 apps of Adware category.  The company Quick heal said in a statement that, "Right after the launch, these applications open camera and show various options like flash light, gallery, etc. But when user chooses an option, these apps start full screen ads, with no option to close or skip".
What Google has taken step for those malicious apps?
It's very shocking moment for any Company when they get to know that malicious applications are there. Google handles the situation and uninstall those apps instantly from the Play Store. How strange it is when someone downloads the app and uses it and found some issues, definitely the users complaint against it or write the negative reviews on play store. After that these apps has the more than 10 million downloads. One of the malicious app name is ' multi app multiple account simultaneously' had 5 million downloads. Out of 29 apps, 24 apps can hide their icons when they first launch. One more thing, such kind of applications creates a shortcut on the home screen of your phone. The worst part of these apps is as Quick Heal Security Labs shared that such apps are not allowing users to uninstall the application. If you want to do so by dragging the icon you can't. How ridiculous it is.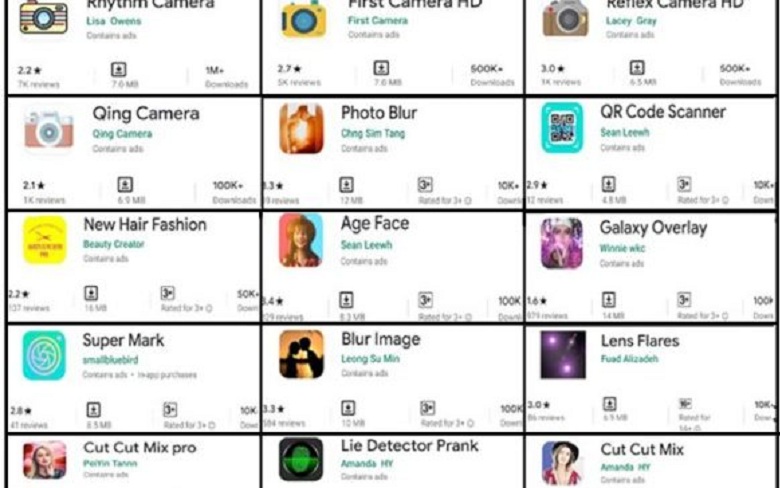 Out of 29 apps, 5 apps belong from Adware category. From starting these Adware applications show the functionality of magnifying the view but this is not the reality? In reality, these apps show heavy ads on your mobile and due to this your mobile battery gets dead quickly and also it can cause heavy data usage. Quick heal said that, "Right after the launch, these applications open the camera and show various options like flashlight, gallery etc. But when the users choose an option, these apps start full-screen ads, with no option to close or skip."
Sum it up
There is no place for malicious applications on Google Play Store. Well, what a fabulous job tech-giant Google did because such applications will definitely harm your mobile data and even some more major problems shall be created. So credit goes to not only Google but also to Quick Heal Security Labs. They are the one who watch out such apps activity and informed to Google.
We wish Google keep their users alert and keep them safe from all these vulnerable activity. We will be back with another article till then get in touch with us. Till then keep reading and keep sharing.