BOOM IN BUDGET 2019 FOR TECHNICAL INDUSTRY
Every year budget changes and shows some different way to enables the user in every sector and this time it's something interesting. If you don't know then this year it is presented by our interim Finance Minister Piyush Goyal.  Due to the health issue, Mr. Arun Jaitley can't present so on 1st of February 2019 the much-awaited union Budget presented in Lok Sabha. Let's move on and review some facts of budget for Technical Industry that will bring changes in every sector.
Some said that the changes in a budget is just a strategy to win the election of this year but others thought it's just all bullshit no strategy is implemented. It's just to help the middle-class user or the poor one who is suffering from a bad life. Well, here we just want to say that it's only up to you. Here we don't want to discuss about the election details. We discussed before just because of some people who don't like the way the budget 2019 presented.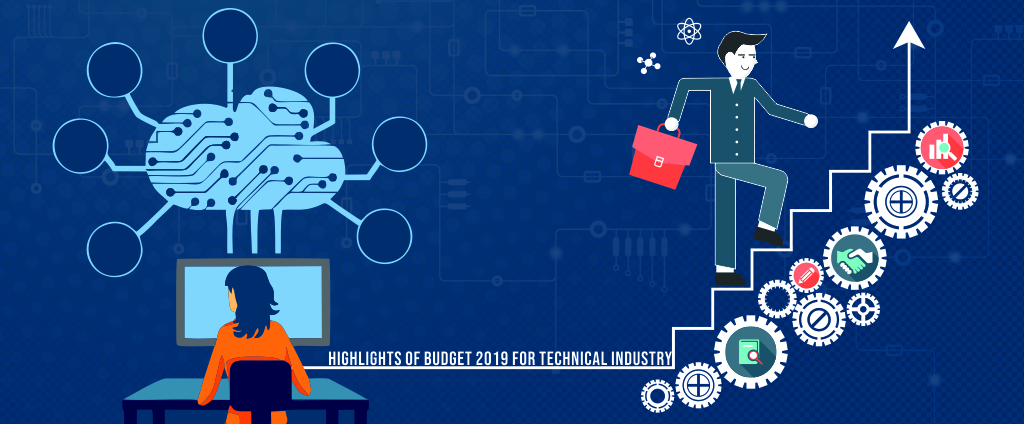 Yes, we are talking about the union budget so the important aspect which we want to see a change and that is about the technical industry? After getting aware of the Union budget do you think that it had done something for this industry? Several measures have been announced about the technical industry like-
A National Program on artificial intelligence has been made by the government and also you feel happy when you get to know that centers of excellence and a National artificial intelligence portal will be open soon.
Here we can say that the government shows a good focus on a futuristic technology because the artificial intelligence totally brings a new innovative way for everyone or you can say totally heating news. The announcement about the technical or artificial intelligence has changed several paths of the users while using the advanced and disruptive growth of the economy definitely brings a new India for you.
So our question is does it met all the expectation that you are looking for? It totally depends on the user because the Union budget is just for you people if you like then we can say that they have made a successful Union Budget if not then surely Government tries to bring change next time. Here we want to show you some points which will of interest to the IT industry-
• 54% return has been accepted without any scrutiny.
• Increased Tax-free gratuity from Rs. 10 lakh to 20 lakh.
•    Do you want to know why India has become the second largest startup-hub? It's because around 1 crore youth have been trained via Pradhan Mantri Kaushal Vikas Yojna. The scheme Pradhan Mantri Kaushal Vikas Yojna is for those Indian youths to take up industrial relevant skill training for better lifestyle.
• Finance Minister announces that all tax security can be done only through Anonymous digital interface.
• Government project now has to source 25% of their requirement from SMEs.
Well, this is all about the technology industry but what if we say that the Budget of this year can bring a smile on a face of poor one. Here we are talking about the farmers as we want to tell you that the government offers less than two hectares of land with Rs6000 per year which will directly transfer under the PM's Kisan Samman Nidhi. Now if we move on and look for the middle-class user they get an increase in tax limit from 2.5 lakh to 5 lakh per annum.
Every time when the day of Union Budget announces, people always hope for the best so that they don't have to struggle too much. In this year, we have seen some changes whether we talk about the Technology sector or any other one even if we talk about the user who is low or middle class, this budget has given a drastic change in everyone's life. So, in-short instead of wasting time to point out the negative aspect which is useless, always think positive and remember the changes which happen in the Union budget every year. It is for you so that you get to know how interesting and different it is as compared to other Budget sessions.