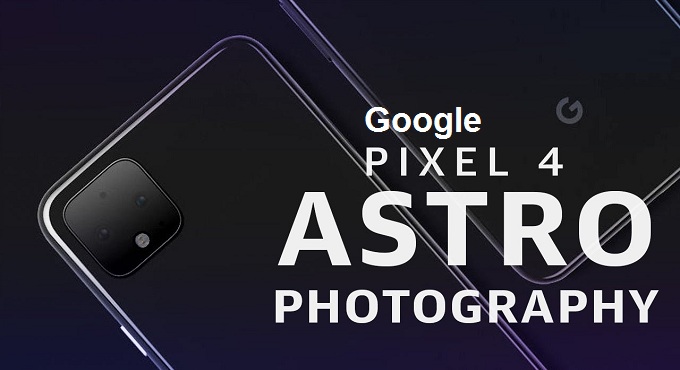 Let me start this blog by asking you a question- why do you use mobile phones? I know today phones are very essential to carry with us. Still, there are a lot of people who use phone for different reasons. For instance, some people use phone just to make and receive calls, some use to have games and social media apps, some use particularly to store files/documents, and some people use phones just to utilize camera to click selfies, photos, and other objects.
I know lot of people like shooting night sky, stars, moon, and celestial bodies with a dedicated camera like DSLR. What about those who can't afford DSLR camera? How they would capture these pictures of sky? No worry guys. With the advent of technology, it's possible as now you can capture night sky with Google Pixel 4 who offers you "Astrophotography" mode in the phone.
Let's gear up to know more about astrophotography mode in detail.
What is Astrophotography mode in Google Pixel 4?
To simply put, Astrophotography is capturing the pictures of astronomical objects, celestial events, and areas of the night sky. The first photo of astronomical object was taken in 1840. However, Astrophotography is a feature relatively new to smartphones. It was first introduced in iPhone 11 and is now introduced in Google Pixel 4 also.
Astrophotography feature is built in night sight camera mode in Google Pixel 4 which allows users to easily capture night skies and the several mystifying elements it hides for example Milky Way galaxy. Although you will not find the quality as good as DSLR camera, nevertheless, it's great camera technology introduced in smartphones.
How Astrophotography mode works in Google Pixel 4?
I'm going to share what the Company wrote in a blog post regarding the function of this feature.
Astrophotography mode captures high quality images in low light conditions requires an exposure time of several minutes.
Software engineers Florian Kainz and Kiran Murthy said, "Taking pictures of real night skies we found that the per-frame exposure time should not exceed 16 seconds,"
The researchers realized that 16-second exposures allowed them to capture enough light to produce recognizable images.
Google night sight also uses a 'Post-shutter viewfinder', which essentially uses two sets of long shots to capture image of the right composition.
Autofocus of the mode ensures that the image captured is sharp. However, under low light conditions images can be noisy and grainy. So when this happens, Night Sight on Pixel 4 switches to 'post-shutter autofocus'. After user presses shutter button, the camera captures two autofocus frames with exposure time up to one second.
When you capture scenery in extremely low light conditions, the actual image can look a much brighter than the original image, which can change your perception of time.
Finally, all the images are assimilated and the result is that users get a perfectly balanced image of the night sky.
How you can use Astrophotography mode on Google Pixel 4?
To utilize this mode in your Google Pixel 4 mobile, you must follow given guidelines of this mode.
Set you Pixel 4 to a tripod or prop it against a static object pointing directly upward away or at an angle away from direct light sources.
Now open the Camera app and move to Night Sight mode.
Click on the Camera shutter button and it will recognize that you're taking photos of the sky and will automatically enter the long-exposure Astrophotography mode.
Now you have to wait for 1-5 minutes for your astrophotography to be completed.
If you want to get best results, you must get out of urban areas and move to the open space where no light pollution can affect your long exposure photos. You can also try it in cities.
Final words!
Google Pixel 4 is the best mobile device which offers you a feature of Astrophotography mode through which you can take pictures of sky during night, and celestial bodies. If you're a Google Pixel 4 user then you must go out somewhere with as little noise pollution as you can manage, and get started with your shooting. However, you might not get exact pictures like DSLR but yes you will surely enjoy the experience of clicking night sky pictures with Google Pixel 4's Astrophotography mode.
For more updates get in touch with us till then keep reading keep sharing.