We all know that to download the app in the Apple smartphones, just directly go through the App store. What if I share an alternative of Apple app store? Is there any alternative of App store where we can download the apps which we need? It's strange to hear how it is possible in iOS? Fortunately it is. It is important to get aware about AltStore which was officially launched on 28 September this year. You know how it is easier for you as side loading the application on your device is now a simple process and credit goes to only AltStore.
There were many such benefits you can get from this alternative of Apple's app store. There are no such restrictions in your IOS device to download the app. It can simply work with any Apple ID. Riley Testut, man behind developing this alternative of Apple app store called AltStore. More content is ready to introduce here so let me highlight all such details related to AltStore and I hope you at least use it one time and will get good experience.
How to download the AltStore in your iPhone or iPad?
First step is to download the AltServer preview for your Machine Learning Windows10 and Mac OS.
Connect your phone or iPad with PC where you just need to install AltServer via USB cable. Run directly AltServer desktop app and then you have to choose "Install AltStore" and after that select your device.
The third step is they will ask for your Apple ID, and then you have to enter it. After that just wait for few seconds because the AltStore is being installed on your device.
When it gets installed, you will see AltStore icon on your device or iPad. Next job is just to authorize AltStore from Settings>General and then Device Management.
Now the last step is just to sing-in again with your Apple ID and it will start working.
How AltStore will work?
Above I mentioned how you can download the app AltStore in your iOS device. Now it's time tell about the app. So let's discuss about the app functionality. When you want to download the AltStore it requires your Apple Id. If you wish you can put your Id without any fear. AltStore never share your detail with any third party. Here I want to clear one thing if you don't wanted to enter your original Apple Id then there is a solution simply you can create its alternative Id to put here.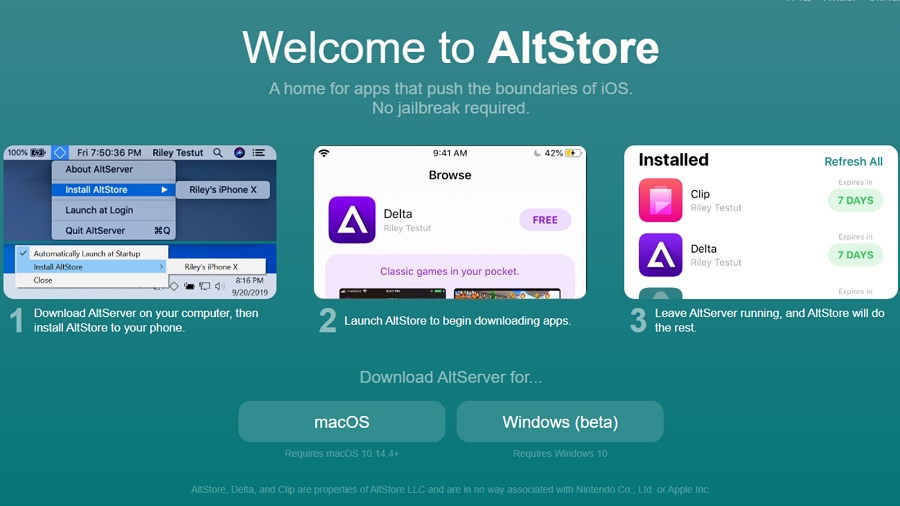 After putting Id and password it communicate with Apple's Developer Server on behalf of you. After going through with all security checks it feels like every user is the developer of this app. To download the AltStore app you need AltServer in your device. AltServer is an app which runs in background to watch the connections made for AltStore. After downloading the app you can download any app from AltStore.
One thing you need to know that downloaded apps from AltStore is only valid for one week. After every week you need to sign in again.
There is a restriction that you can download only three apps using single free Apple Id. To download more apps you need another Id.
Conclusion
Riley Testut believes his app store is going to boom in the market because he knows what audiences need these days. The role of this app store starts by tricking your iPhone into thinking your Apple ID is registered with the Apple Developer program. This will allow users to sideload their own app. Sometimes AltStore fail to download those apps which is complex and has certain app extensions.
Developer Testut developed not only AltStore he also introduced us with some amazing apps like Delta Beta which supports Nintendo DS, Delta Lite Beta which support not only Nintendo but also Game Boy Color. In future he wanted to introduce more amazing apps.
For more updates get in touch with us. Till then keep reading and keep sharing.