Life of Chalk and Blackboard is an old method
Our day starts with lots of work and ends it in a simple way so on the whole day do you ever think about the new change or do you use any kind of technology in your work. Not fair if you are not aware of the new trend and technology that have totally changed our lives. Gone are those days where the users have to show lots of efforts toward their work, now with the help of technology there work pressure is reduced and we can say that the burden is decreasing after the start of new technologies. Well, this all is about the work but have you ever thought that technology has brought aspects in education too for the children's.
 Wait, not only for the children's but also for the school teachers. New methods are coming day by day and users are feeling relief after such innovative techniques that bring some kind of change in their regular routine. So, we are talking about technology in education and have you heard the word Smart Classes? Communication in education toward children's is must and here smart classes play an important role which provides all such work in a quick solution.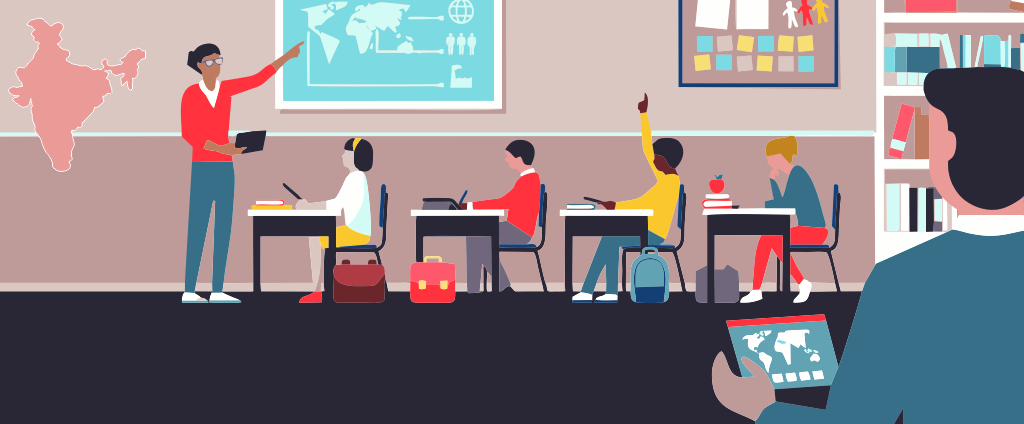 So let's go at the backstage of our life and remember how the user's study in gurukul every day where there are no educated teachers and only gurus taught them about their life and study. Time changed people changed and we live in this century where every day we see new and some innovative techniques in our life which are going to be beneficial in study matter and of course modern method give a modern solution. Now if you visit any town in urban areas and if you go in any school then you will find the school management is going forward and provide the Smart classes for junior to senior students in library and classes. You will find the digital content as the center is connected through the internet and present you in a different way.
So, do you think that presenting the content toward children is a tough task and require high knowledge? Not at all as we all know the welcome of smart classes have totally decreased the burden of teachers who are able to make new projects and assignments quickly and with this, you will have a good conversation with your classmates and students. Listening audio is better than hearing someone? Yes, it is and point to be noted that if your school provides the smart classes facility then you get more number of students in your classroom. You find the students pay more attention while learning from the smart classes.
Well, it's about the students now let's move on to the teachers again and let me tell you that it totally changes the life of every teacher who is able to use the smart classes to educate their students. Even you are able to make notes properly. Here we want to highlight the role of teachers that you are not a robot you also have the problem, you can get the solution with the help of smart classes. Also teachers can clear the tough concept with the use of smart classes by showing videos to your students which will present in such an innovative way that it is understandable to both.
Sometimes the textbook is boring for the students as there are many concepts that are not relevant and true so what will you do here? Discussing with other one or left the concept in between? Don't waste time and make use of the smart classes who will show you every concept in a perfect way and yes smart class have every lesson of every class even you don't know about some tricky question then take help of the presentation and move forward.
Now move forward and talk about those users who have disabilities. Such users can study only with smart classes and you don't worry if you are not able to watch the blackboard. Technology of smart classes helps the users to hear from the audio which will play and you are able to listen properly and also can go reverse if you want to know. Being a teacher you need to draw a diagram but why to waste time when you have smart classes technology in your classrooms. You are able to show the accurate diagrams through smart class and we are sure that all the students will pay attention to your presentation in class.
So the conclusion is why to waste time on chalk and blackboard when the Smart class technology helps you to make your classroom interesting. Schools must pay attention to look forward and always step ahead so that their students never feel bored in any subject. In fact they perform well. Technology of smart classes is like boon for the students of the 21st century.
If you are going to start your business. You must have to go with your own website. Kindly get in touch with us for any kind of website. We will be happy to help you.