By 2020, the total worth of the mobile app market across the globe will go around $190 billion. It means the sector will be soon going to employ for innumerable vacancies, and as a developer, you will have better opportunities and salaries in your hand in the coming years. However, here the question is which mobile app will be in the lead, IOS or Android?
Till now, android apps are 3.5 million in number whereas; IOS apps have reached 2.1 million. Undoubtedly, it is a head-on-head competition, and it's quite difficult to choose one of them.
However, what if we kill both the birds with one stone?
By saying this, we mean instead of mastering app for IOS and Android separately, why don't you choose cross-platform apps?
Unlike native Android or IOS apps, they can run well on different OS and devices. In fact, the market for cross-platform apps has already created a buzz with its worth $7 billion in 2018.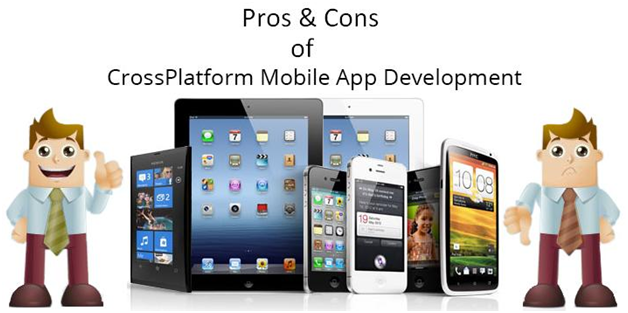 There are numbers of benefits associated with cross-platform mobile app development which make it popular among today's developers. So if you are planning for the same, then give 2 minutes read to this post comprising both pros and cons of cross-platform apps.
Pros:
Single code component:
As per the name, cross-platform apps are all in one approach which can run on multiple platforms, using a single code component. It means once you are done with writing the codes, you can use them anywhere. You don't need a unique database in other programming languages for running an app on different platforms. Moreover, in case of any future changes, the developer is free from the pressure of making individual changes on each OS.
Time-saver:
Less code is equivalent to less headache and can save up to 80-90% of development input in the form of efforts and time. The unique feature of a single code of cross-platform apps shortens the development time and enables the developers to finish the projects before the deadline.
Reduced cost:
In general, companies are afraid of investing in mobile apps due to their development cost. However, the use of a single code in cross-platform apps reduces its overall cost. Additionally, liberty to learn only a few instead of multiple technologies helps the developer to proceed cross-platform app development within a limited budget.
Wider audience:
It's crystal clear that as a developer, you get more benefit or revenue when a large audience gets access to your app from multiple platforms. And, as stated above, cross-platform apps can run across different channels.
Cons:
Performance issues:
Like native apps, cross-platform apps are not found to be productive for their targeted OS. More often, native and non-native components of a device are unable to have effective communication with each other. So as a result, the cross-platform app has left with integration challenges or performance glitches.
Limited user experience:
Although a single code database enables these apps to run over different platforms, however, they are unable to get command over native apps' functionalities. Till now, there are no such tools which can enhance the user experience of these apps.