I firmly believe that in the present era we are always walking hand in hand with technology. And as we are approaching the end of the first quarter of the 21st century, technology is constantly evolving and upgrading. Every now and then news is filled with the update that is done in an old technology or the launch of a new technology. So it is important to walk side by side with these technology trends. Technology upgrades are really important.
It is even more important for businesses to adapt and upgrade them with latest technologies. Because if you are still using those outdated technologies and expecting your business to skyrocket then I am sorry to say that ain't gonna happen. Plus these outdated technologies make your business vulnerable to cyber attacks. Constantly updating your business with latest technologies can enhance the productivity, efficiency and overall performance of your brand. So you might be thinking what are some technology upgrades that you should apply to their business? Let's go through them.
Technology upgrades you need to apply to your business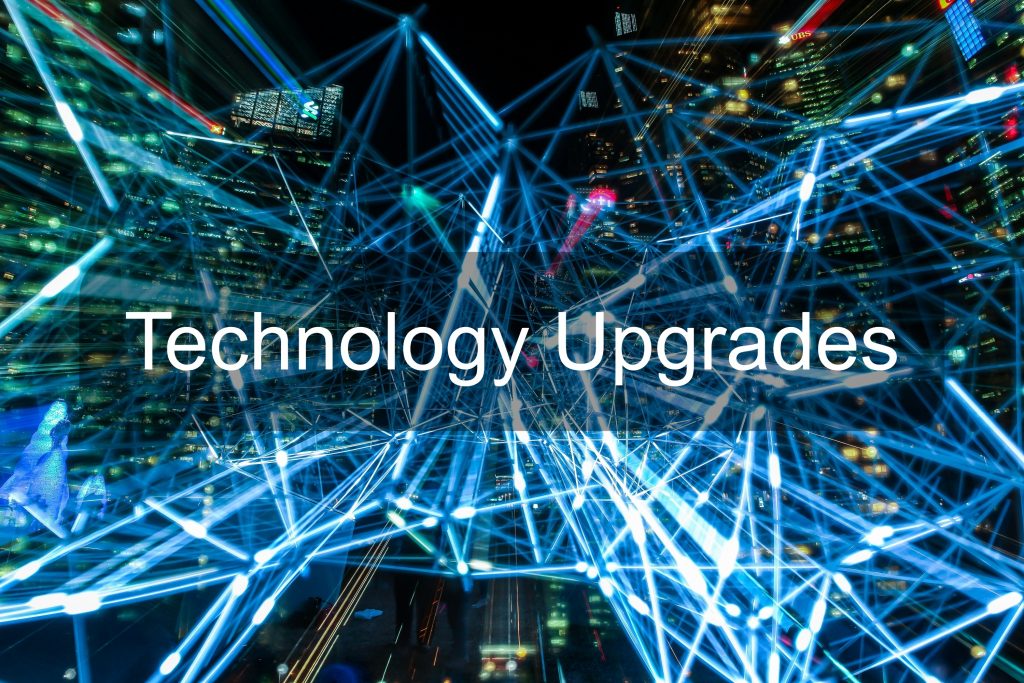 If you are running a business in integration with technology then you need to frequently upgrade your technology in order to make more benefits to your company or business. Here are some technology upgrades you can apply to your business in order to grow your brand.
➤ Update software and hardware
Using old software and hardware can affect your business negatively. How we update our mobile applications from time to time. Likewise technology used in business should be upgraded as well.
The best example here I can think of is Blackberry.
I think we all would agree that there was a time when having a blackberry phone showed your good status; the attractive QWERTY keypad that everybody loved, the BBM everybody used to send messages, all of it was very popular back then. But we all witnessed the downfall of Blackberry over the years. What happened actually? What happened is that the makers of Blackberry did not upgrade their phones. When Android smartphones started flooding the markets, Blackberry makers chose to stick with their old OS which proved to be a blunder, they made similar mistakes with the design of the phone and other features as well. All these things paid their path towards bankruptcy.
So what did we learn from this case? That it is of utmost importance to take technology upgrades seriously and make necessary upgrades accordingly with time.
➤ Shift to cloud software
Cloud computing is the new bird in the nest. As we have seen a huge demand of the storage of massive amount of data that is generated all over the world. Cloud software can be a beneficial technology for small and medium businesses. It will lower down their maintenance cost and improve accessibility for company's accounting, resource planning, inventory management and e-commerce. It is very important to shift to cloud software. Cloud software will be helpful in managing the overall processes involved.
➤ Don't overlook security
Now a days when cyber-attacks have become very common. These can prove to be very dangerous for businesses as most of the hacking incidents are done for money. So, don't ignore the security of your technology. Maintain high level security for your business online. Regularly carry out IT risk assessment. You can lose so much if you don't invest in cyber security. So, don't make that mistake.
Related article: Methods to prevent cyber attack on mobile devices
➤ Mobile optimization
Now that Google have officially announced that it will list sites according to their performance on mobile phones it is very necessary to have your websites optimized for mobile phones. Because a large population uses smartphones so you can't ignore them. Make your online presence mobile friendly especially if you run an e-commerce site, you have to have mobile friendly site as well.
➤ Upgrade business broadband
Now that we are entering the 5G era if you are still using the outdated broadband then you are making a huge mistake. Upgrade your broadband connection to superfast fibre broadband. Because to manage huge data and traffic you require high speed broadband connection. High speed broadband connection will reduce the amount of time taken to finish a task online which will enhance the efficiency and productivity.
➤ Upgrade POS system
POS stands for point of sale which is a system that has recently seen some upgrades. Earlier the billing systems were a collection of hardware but now Wi-Fi has integrated them all in a single appliance. The use of Point of sale system is rising.
➤ Integrate different platforms
If your business demands to work on number of different applications then it can become a mess to manage them all simultaneously. You may try to assemble them somehow to make solution but in the end you will need something that can integrate them well and will streamline everything. Your system should be such that it can integrate multiple applications that your business uses. It would be better if it can easily connect to other applications. This will be really helpful in managing your business very well without creating any chaos.
To sum up
If you mould your business according to latest technologies it will provide a huge boost to your business obviously if your business depends heavily on technology usage. If you overlook it then you might end up like how Blackberry did. So keep up your business with the new upgrades in technologies. Because doing technology upgrades is really necessary to stay in the game in this era dominated by technology.