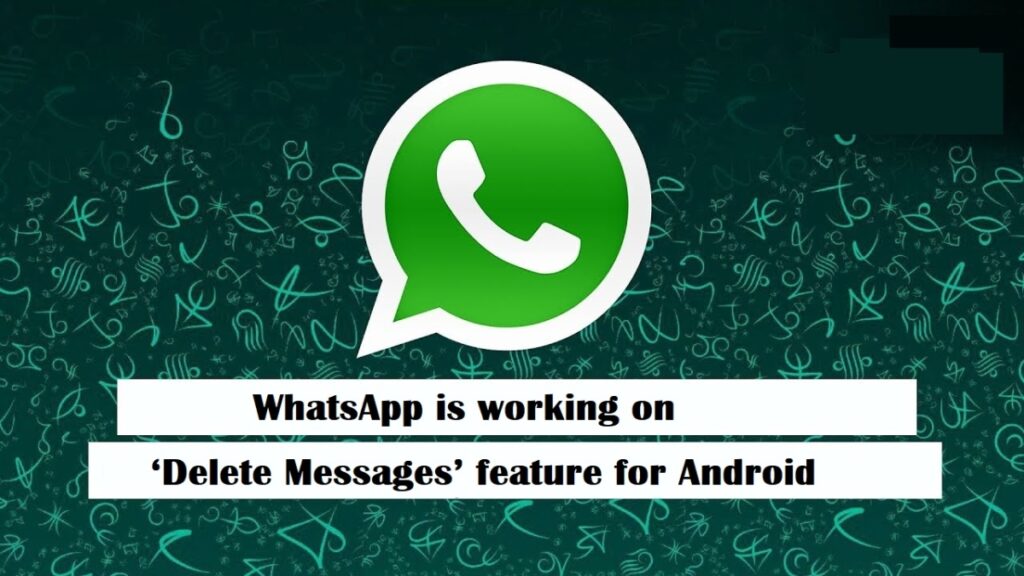 One after another WhatsApp is launching new features in its app. Recently, we saw many new features introduced in WhatsApp such as Dark Mode, Call Waiting feature, New Fingerprint feature to unlock WhatsApp, and New Privacy setting for Group chat. WhatsApp doesn't stop here guys. It is still working on another new feature which is soon going to introduce to you. The new feature I'm talking about is 'Delete Messages' which you gonna see on your WhatsApp.
In this article, you will get to know everything about this new feature and which phone device users can avail this feature in their mobile phone. So, let's gear up to know every minute detail of it. Just make sure you read the article line by line so that you don't miss the details.
WhatsApp working on new feature called 'Delete Messages'
The popular instant messaging app WhatsApp is reportedly working on a 'delete messages' feature on its Android beta app. Back in October, WhatsApp was spotted testing 'Disappearing message' feature and now the same feature has made an appearance on the instant messaging app but with another name called Delete messages. Yes folks, it is reported that WhatsApp has replaced the feature's name from 'Disappearing messages' to 'Delete messages'.
According to report by WABetainfo, in WhatsApp beta for Android 2.19.282 update, you do get access to a new feature called 'Delete Messages', it is the same feature, just under a different moniker, in simple words, "delete messages" will do almost the same thing as "disappearing messages".
How the feature will work on Android beta app?
Let me first tell how 'disappearing messages' feature was reported to work. In this feature, you are asked to set time and after that particular time, the message will automatically delete itself. And this feature is now just applicable to group chats and the time limit can be varied from 5 seconds to one hour.
In the same way, delete messages feature will work on WhatsApp but the time limit has been extended. Now you can set time from 5 second to one year. According to the report, this feature will be available for Group chats for now and can be enabled by only administrators of that particular group. To enable this feature, follow this simple path: Open Group Info > Group Setting > Delete Messages.
Who can avail this feature on WhatsApp?
Delete messages feature is now being rolled out on Android Beta App version number 2.19.348. Those users who have enrolled themselves for Google Play beta programme can download the latest version. There is another alternate way to download this version, you can manually download the app through APK (android application package file) available on the APK mirror platform.
Although the feature is still under development, Facebook-owned app is working on the update. Till now it is reported that only android beta app users can avail this feature. There is no information about iOS users.
How "Delete Messages" feature is different from existing feature called "Delete for Everyone"?
Last year, WhatsApp introduced a feature called 'delete for everyone' and now some people are comparing this feature with 'delete messages'. However, both these features are different from each other. I tell you how. The 'delete for everyone' lets you delete messages leaving behind message displaying: 'this message has been deleted'. On the other hand, with the 'disappearing message' feature no such message will be highlighted in the chat box and also it will seem like a message never existed before.
Additionally, disappearing or self-destructing messages isn't new feature. This feature is already available on messaging apps like Telegram and Signal.
Final words!
WhatsApp has been in popularity since the time it launched but now it has gained more fame because of the new features it is introducing in the app. We have seen many new features introduced in the app lately. This time also WhatsApp is working on the feature called Delete Messages. Though it is not revealed when the feature will be made available on WhatsApp, soon Android beta app users will see and avail it.
Comment below to let us know how you find this article. If you have any query or you want t o know more about anything kindly get in touch with us.